Home » Posts tagged 'navy'
Tag Archives:
navy
I'm loving this rugby stripe throw.

Wouldn't it be fun paired with a geometric rug?

Or draped over this chair?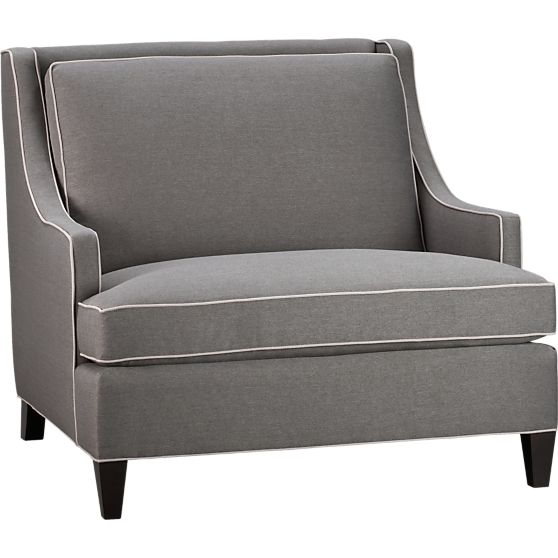 As you probably have figured out by now, it's Winter Pinterest Challenge time! Hosted by Sherry, Katie, Michelle, and Megan. And it's totally not hosted or sponsored by Pinterest (although don't you think it's time they get in on this action?!)
Anywhoo. I had some fun with this challenge & FINALLY got a project (or two) checked off my to do list.
Why yes, I know I'm a day early, but I did two projects for the Winter Pinterest Challenge. I'll be back tomorrow to share the more involved project. This project only took about 20 minutes total – including taping and two coats of paint. I had lots of grand ideas for what to do to update the lampshade but when I though hard about it, I realized I didn't want an overly involved pattern. I was also concerned that if I did one of the ribbon ideas, it would look good in pictures, but in real life it might look like "Oh, you glued some ribbon to your lampshade…" So that's how the idea of the navy stripe was born.
There's no tutorial, because it was super simple! I taped off a stripe using some blue painters tape and then taped of another a few inches above the first. Then I simply painted the stripe using some Martha Stewart "Deep Sea" Craft Paint in a satin finish. I thought one coat would do the trick, until I turned on the light, at which point it was clear that I did not get good coverage everywhere. It was an easy fix though – I just painted another coat over the first with the light turned on, to make sure that I got proper coverage the second time around!
So what do you think? I think it's already brightened up that spot! I'm still considering painting, or otherwise updating the lamp itself. Maybe some white paint? Or some sisal rope? What project are you sharing tomorrow?